Temperature Cycling or Thermal Cycling testing is performed on materials to determine the resistance of exposure to alternating extremes of high and low temperatures. Permanent changes to electrical or physical characteristics can result from the effect of thermal induced mechanical stresses.
Thermal mismatch of materials can cause solder joint cracking, warpage, damage to leads and markings, and hermetic seal failures. Adhesives such as silicones, epoxies and polyurethanes can also be tested for thermal cycling resistance where the bonded materials may have different coefficients of thermal expansion and contraction.
Test conditions vary based on the type of sample being tested. Specific cycling rates and other test conditions for components, boards, solder interconnects and/or tin whisker evaluations can be specified. Test conditions include the number of cycles, upper (hot) temperature, lower (cold) temperature, soak time, transfer time and ramp rates can all be determined.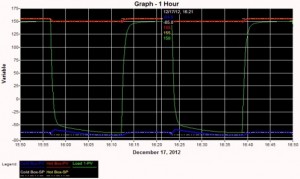 Test Methods:
Mil-Std 883 Method 1010 – Temperature Cycling
Mil-Std 750 Method 1051 – Temperature Cycling (Air to Air)
JEDEC Standard JESD22-A104D – Temperature Cycling
GR-468-CORE