Particle Impact Noise Detection (PIND)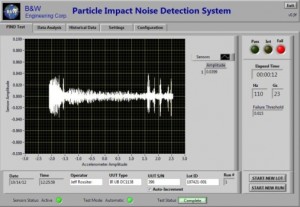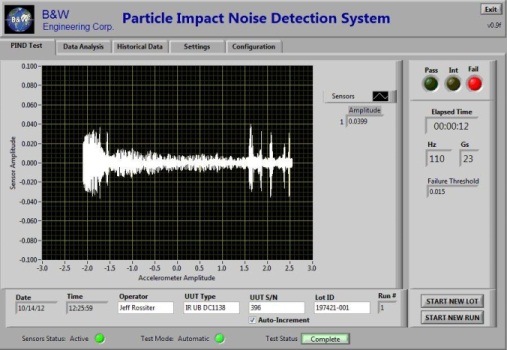 Proper functioning of electronic and electromechanical devices is imperative for mission success, personnel safety, and equipment reliability. Loose particle contamination can be a major cause of device failure.  Conductive contamination within an internal cavity may bridge active metallization causing catastrophic EOS events, while non-conductive particle contamination may cause mechanical damage to internal components resulting in an inoperable condition. Particle Impact Noise Detection (PIND) testing is the accepted method to detect particle contamination within the internal cavity of a device, especially in cases where X-Ray is not possible, such as rad-hardened devices. The PIND testing method is considered to be a non-destructive test and is widely used in total lot screening applications on live or "flight" components.
The test samples are mounted to a shaker assembly with acoustic couplant gel or a double-sided adhesive tape. The system then performs a series of shocks and vibration. The shock pulse is designed to dislodge any loosely attached particles, after which the vibration phase will cause any loose particles to impact the internal surfaces of the device. This impact is detected by transducers mounted on the shaker assembly, which are required to be capable of detecting a mass equivalent to that of a 1mil gold wire bond or smaller. These transducers output a sinusoidal wave to an oscilloscope, which allows for failure detection audibly, visually, and/or by crossing a system monitored threshold.
ORS has been granted a Letter of Suitability from the Defense Logistics Agency Land and Maritime for both Mil-Std-750, Method 2052 and Mil-Std-883, Method 2020 in both Conditions A and B. All testing is performed to a Standard Operating Procedure approved by the DLA for consistency in these test methods.
Devices tested to Methods 2052 and 2020 are not allowed to be retested once a failure has been identified. Due to the restrictions against retesting failed components, ORS goes above and beyond the Mil-Std requirements and fully records all tests.  By recording each run we are able to review and analyze failures while complying with the Mil-Std requirements prohibiting additional test runs.
ORS provides testing to Mil-Std-750 and Mil-Std-883 as well as any customer request between 27Hz and 250Hz at 10 – 20 g's acceleration.
Lot acceptance testing strictly adheres to a sampling plan listed in each of the Mil-Stds.
Test Condition A parameters specifies a 20 g peak vibration at a predetermined internal cavity height specific frequency of 40 to 150Hz.  (Up to 250Hz by customer request.)
Test Condition B parameters specifies a 10 g peak vibration at a minimum of 60Hz.
Two unique fixture head sizes are available to handle larger devices.
Failures are fully recorded using video. (Videos provided upon request.)
Particle Retrieval is available for failed devices to gather any loose particle and perform elemental identification as an additional service.